I've been thinking quite a lot recently about expanding my blog to feature more topical, written posts too - I realised that all of my posts are very similar and it's always nice to keep things fresh! So here's my first one: Equipment. I don't really ever talk about my equipment much as I am a firm believer in the concept that a good camera does not necessarily equal good pictures, but it's probably about time I just put all the information about my kit in one place for people to check out if they're interested!
2007-2010 SETUP
Canon EOS 400D + Canon EF-S 17-85mm IS USM
My first DSLR setup consisted of a Canon 400D body and EF-S 17-85mm lens. The reason I didn't go with the 18-55mm kit lens was because the version that was out at the time had quite a few not-so-good reviews, so I figured it would be worth spending a bit extra and getting the next best thing. I believe they have now revised the 18-55mm with a new version now, but either way it's always good to read reviews so you know what you're getting for your money.
This is the sort of setup I'd recommend to anybody starting out in photography - a consumer-end DSLR and a zoom lens. Zoom lenses are versatile and suitable for lots of types of photography, and consumer-end cameras can be used regardless of ability level as you can shoot from pre-set modes such as Portrait, Landscape etc right through to full Manual as and when your knowledge increases.
The battery grip shown here was not something I personally shot with, it's something I bought when I gave the camera to my fiancé and it was screwed on too tightly for me to take it off the the picture!
2010-2013 SETUP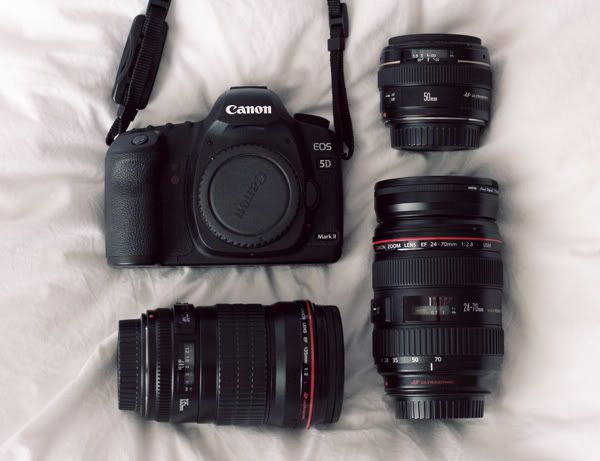 Canon EOS 5D Mark II body + 3 lenses
After a while it became clear to me that I needed to push my 400D further than it could go, especially when it came to shooting in low light conditions. So here I am now, shooting with a 5D Mark II and a selection of lenses I've acquired over time. Here's a bit of info about each one, going clockwise from the top:

Canon EF 50mm f/1.4 USM
I bought this lens about a year before I upgraded to the 5D Mark II, and it's always worked stunningly well on both of my camera bodies. It's my most used lens, and at £300 or so it's a real bargain considering just how often I use it! Beautiful DOF and hardly weighs anything compared to my other lenses, so using it for hours on end is a breeze.
Canon EF 24-70mm f/2.8 L USM
For me, a zoom lens is always a must-have for any photographer's kit. Even if you won't be using it a huge amount, the range of focal lengths makes them incredibly versatile and for me, it's always nice knowing I've got one just in case I need to shoot something particularly wide angle, which I can't do with my prime lenses. This lens is a little pricey, but the quality of the shots it produces is fantastic and it's the zoom lens with the widest aperture I could justify the price of!
Canon EF 135mm f/2.0 L USM
This is my new baby! It arrived last week and I've not had the chance to use it properly yet, but as soon as I've got a bit of free time I'll be organising a shoot to test this lovely thing out. Watch this space!
So finally, I now have all the info on my camera kit in one place on the internet! I hope this was useful to anybody who was curious, but again I need to mention that it's not your equipment that makes your pictures what they are - it's
you
!
What else would you like to see blog posts on? Let me know!