I don't really talk about my equipment much as I am a firm believer in the concept that a good camera does not necessarily equal good pictures, but it's probably a good idea that I put all the information about my kit in one place for people to check out if they're interested!

Canon 5D Mark III
Early this year I upgraded to the Mark III (from the Mark II) and I have never looked back! The reason for this is that I shoot at wide-ish apertures most of the time, and when focusing and bumping over to frame my shot I kept finding a lot of out of focus shots, which is just not acceptable, especially terms of my client work. The Mark III has 41 AF points compared to the Mark II's 9, and I have noticed a HUGE difference.
Canon EF 50mm f/1.4 USM
I bought this lens about a year before I upgraded to the 5D Mark II, and it's always worked stunningly well on all of my camera bodies. It's my most used lens, and at £300 or so it's a real bargain considering just how often I use it! Beautiful DOF and hardly weighs anything compared to my other lenses, so using it for hours on end is a breeze.

I'm now on my second one - my first one broke when the focus system failed. I managed to get it repaired by Canon but sadly the same thing happened again at the beginning of this year, so here we are onto number 2. Let's keep our fingers crossed for this one!

Canon EF 135mm f/2.0 L USM
When it comes to choosing a favourite portrait lens, it always comes down to this and the 50mm. I just can't choose! The 135 is one of Canon's fastest focusing and sharpest, yet lowest priced L lenses and it is perfect for closely cropped portraits. The long focal length compresses facial features to create a really flattering portrait, and the DOF is amazingly smooth.
Canon EF 24-70mm f/2.8 L USM
For me, a zoom lens is always a must-have for any photographer's kit. Even if you won't be using it a huge amount, the range of focal lengths makes them incredibly versatile and for me, it's always nice knowing I've got one just in case I need to shoot something particularly wide angle, which I can't do with my current selection of prime lenses. This lens is a little pricey, but the quality of the shots it produces is fantastic and it's the zoom lens with the widest aperture I could justify the price of!

BITS AND BOBS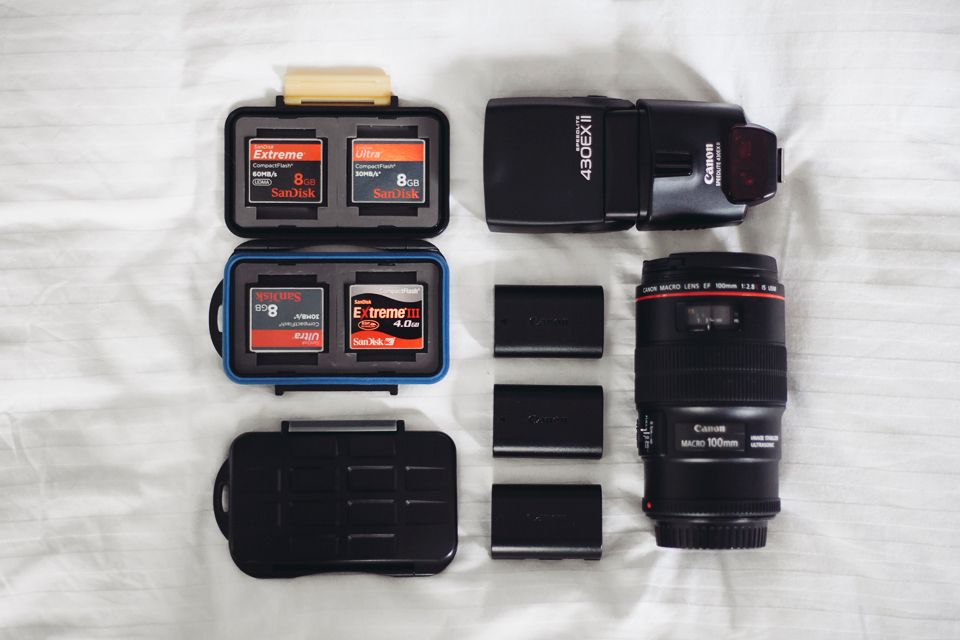 Canon EF 100mm f/2.8 L Macro
This is a brand new purchase! My husband does a lot of food photography in his work and I really wanted to have a macro to be able to shoot macro photos at weddings, so it had to happen. I've not a chance to use it professionally yet but from playing around with it at home it is amazing. I've never owned a lens that can focus closer than 30cm or so, so the entire concept of shooting macro on a DSLR is completely new to me!
Waterproof CF card cases / Sandisk CF cards
These cases are incredible. They feel absolutely bullet proof and are apparently waterproof (although luckily I have not had to test this out yet!) The main advantage for me is just having somewhere to keep my cards in the same place - if you're putting them back in a case you'll have no risk of cards getting lost floating around in your pockets or ending up in the washing machine!
I have a few of these because I like to use lots of small cards instead of a few big ones. The reason for this is to minimise risk if anything screws up on the card - I'll lose less images than I would shooting with a large one. Just search for "CF card case" on Amazon and you'll find this style of card case sold by multiple brands.
Tip: Replacing full cards into the case upside down is a handy indicator of which ones are full and which ones are ready to go!
Canon Speedlite 430 EX II
Another new purchase for weddings! I always used to use my dad's old film camera flash gun on manual, but I figured it was about time to get something more reliable. So far it has served us well and I'm looking forward to practising some more creative flash techniques too!
Looooots of batteries
You can never go wrong with lots of spare batteries. No explanation needed!
Collapsible reflector (not photographed)
At the very beginning of my love for photography, I purchased a large collapsible reflector with a zip off case from Jessops (it can be used as silver, gold, white, black or as a diffuser). I've still got it, it's every bit as useful as it was when I first purchased it and it comes along with me on every shoot.
Canon RC-6 Remote Control (on camera strap in top photo)
This is the remote I use for all my self-portraits. It's pretty basic, but its options work very well for the work I do: 2-second delay or shoot instantly. It has a good range and I've never had any issues with it (except for in thick fog) and even comes with a camera strap pouch so you don't lose it.
- - -
So finally after 3 years I've updated this blog post! I hope this was useful to anybody who was curious, but again I need to mention that it's not your equipment that makes your pictures what they are - it's
you
!
Now it's your turn - what are your favourite things in your kit bag and why? Leave a comment below!